The 2023 Hyundai Palisade adds more standard tech and easier seats to better serve its family role. Hyundai's largest vehicle, the 2023 Palisade gets its first major update since its winning launch into the three-row SUV segment in 2020. It competes against the Kia Telluride, Honda Pilot, Toyota Highlander, Ford Explorer and many, many other three-row family vehicles, including minivans.
The refreshed Palisade carries a new look inside and out that falls in line with the brand's design language first adopted on the smaller Hyundai Tucson. Upgraded standard features include the latest tech advancements, and an eight-seat option contrasts available heated third-row seats that show the range of the Palisade as either a family workhorse or a luxury-leaning bargain. A new off-road adjacent XRT trim joins the SE, SEL, Limited, and range-topping Calligraphy trim. The XRT model has dark trim elements, fake skid plates, black roof rails, black 20-inch alloy wheels, power sunroof, and black synthetic leather inside.
The 2023 Hyundai Palisade takes a blockier approach compared to last year's model. This year's mid-cycle update discards some of the outgoing model's reptilian lines in favor of a chunky, blocky front end. The new grille up front wears plating that could have come out of "Tron," with narrow headlights that give it something of a permanent scowl. Most versions discard brightwork in favor of blacked-out trim, though the top Calligraphy model is adorned with plenty of low-sheen silver.  This year's new XRT version has special 20-inch wheels and faux skid plates for a somewhat more rugged look.
The 2023 Hyundai Palisade is a comfortable mile-eater. The Palisade excels at chewing up blacktop for hours at a time thanks to its comfortable ride and relaxed demeanor. All-wheel drive costs $1,900 on all versions. A center differential lock button forces more power rearward for especially slippery terrain, but the Palisade isn't really a true off-roader. Think more Boy Scout camping than true off-trail Pacific Northwest Trail camping.
Power is just fine, though the 291-hp 3.8-liter V-6 lacks the turbo punch of some rivals. Still, the 8-speed automatic gearbox behaves well, and the engine emits a refined snarl underway. Highway passing is easy enough thanks to decent mid-range punch, though the big V-6 can run out of grunt for sustained hill climbs. Paddle shifts for the automatic are a nice touch for rapid passing or mountain descents, while a bevy of drive modes revamp certain traction and powertrain settings.
Better yet is the Palisade's excellent ride. The long wheelbase, 114.2 inches, if you're counting, helps this big SUV feel controlled over a variety of road surfaces. Even with the 20-inch wheels fitted to most versions this year, the soft suspension tuning takes big jolts in stride. When equipped with a load-leveling rear suspension, the Palisade can tow a 5,000-pound trailer.
The Palisade's Achilles heel is its fuel economy, albeit not horrible for the class. The 2023 Hyundai Palisade sees no notable mechanical changes from 2022, so its 19 mpg city, 27 highway, 22 rating (with front-wheel drive) carries over. All-wheel-drive versions rate just 19/25/21 mpg, too. By comparison, the Toyota Highlander Hybrid checks in at 35 to 36 mpg combined, which may mean the better part of a grand in fuel savings every year.
The 2023 Hyundai Palisade should be a very safe choice. We're confident enough that last year's top safety scores will carry over. Last year, the Palisade scored a five-star rating from the NHTSA and a Top Safety Pick+ award from the IIHS. Every version comes with automatic emergency braking, rear parking sensors, blind-spot monitors, and active lane control. Higher-end versions can be had with front parking sensors plus a more advanced automatic emergency braking system that can react to potential collisions at intersections. A head-up display and a surround-view camera system are also optional.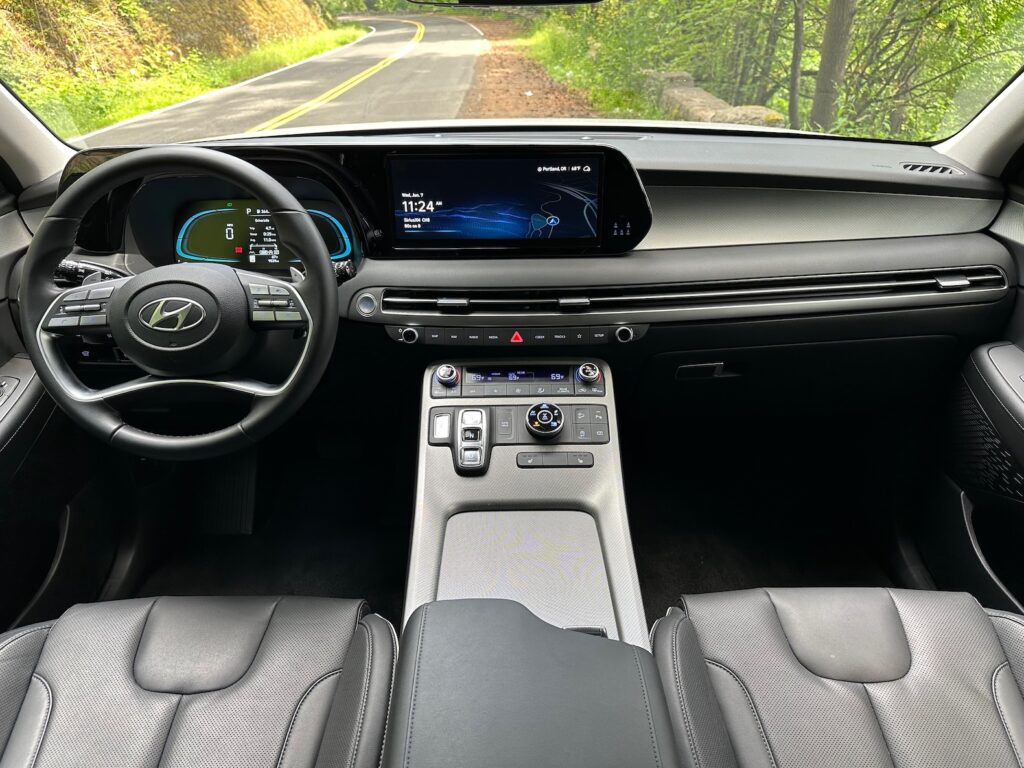 The cabin includes a wide, elegant dash with a new 12.3-inch touchscreen on all versions. Below sits a smorgasbord of buttons and storage bins, all nicely arranged. Calligraphy versions justify their extra cost with plenty of gorgeous, perforated nappa leather hides. Lesser models wear synthetic leather that should be hard-wearing. SEL and higher versions can be had with synthetic leather on the dash for an especially nice look, too.
Hyundai packs a lot of space and plenty of nice touches into its biggest SUV. The 2023 Hyundai Palisade is an exceptionally comfortable SUV. It offers seating for seven or eight passengers, with terrific front seats, good second row, impressive cargo space, and quality feel. The Palisade is a big SUV that will fill most of a suburban garage. The upside to that is terrific space inside. You'll find just enough bolstering and lumbar support in the front seats for long distance treks, while Calligraphy versions add massaging this year.
The second row can be had with either a three-piece bench or twin captain's chairs with armrests. The seats can move back and forth on a track to open up north of 40 inches of leg room. Row three is easy enough to access thanks to the way the second-row seats slide forward. It's even better with the power-sliding seats included on top versions. The third row is decent for medium-size adults but best for teens or kids. There's about 18 cubic feet of space behind row three, which grows to nearly 46 cubes when folded and maxes out at 86.4 cubic feet.
The 2023 Hyundai Palisade can feel like a high-end luxury SUV. Even though Hyundai offers few options, the 2023 Palisade scores highly for its feature set. Its good standard equipment, terrific infotainment system with an uprated screen this year, and a spectacular warranty are all augmented by reasonable pricing. You could probably be happy with the base Palisade SE, which includes cloth seats with room for eight passengers, a 12.3-inch touchscreen with wired Apple CarPlay and Android Auto compatibility, adaptive cruise control, automatic emergency braking, and a few other niceties for $36,545, or $1,900 more with all-wheel drive. Every Palisade comes with a five-year/60,000-mile bumper-to-bumper warranty plus three years or 36,000 miles' worth of scheduled maintenance.
The SEL is a good starting point for $3,000 more. It adds synthetic leather seats, a power-adjustable driver's seat, heated front seats, automatic climate control, and a garage door opener. If you want to splurge, the $4,950 Premium Package adds 20-inch wheels, a digital instrument cluster, front parking sensors, a surround-view camera system, a sunroof, memory for the driver's seat, heated second-row seats, and cooled front/middle row seats, plus the automaker's more advanced adaptive cruise control system.
Less appealing is the XRT, which slots above the SEL and for $2,300 adds a sunroof and a host of cosmetic tweaks. Another $3,000 buys the Limited with a bigger sunroof, leather seats, a head-up display, and heated third-row seats. All in, the Calligraphy runs a little over $50,000, or $1,900 more with all-wheel drive. You'll find nappa leather, upgraded interior trim, a rearview camera mirror, and even the ability to move the Palisade back and forth from the key fob for cramped parking situations.
Hyundai has come a long way in a short amount of time from non-player to top-player in the large CUV class. Nothing is more evident of that than the 2023 Palisade which has quickly become top dog in its class. With inoffensive bold looks, as much room as some minivans, and topnotch technology with a great value proposition; it's easy to see how the Palisade is tough to beat. For those looking to try something that's good at everything with enough space for everyone, the 2023 Hyundai Palisade is definitely worth a look.