The 2023 Lexus IS 500 F Sport Performance is the latest addition to the Lexus lineup. It's a compact executive car that offers impressive power and performance. The IS 500 comes with a naturally aspirated V8 engine, making it the first V8-powered IS model since the IS F. The exterior of the car is sleek and sporty, while the interior is luxurious and comfortable. The car is equipped with advanced safety features to keep you and your passengers safe on the road. There are also several options packages to choose from, allowing you to customize your car to fit your needs.
The 2023 Lexus IS 500 F Sport Performance has a bold and aggressive exterior design. It features a low, wide stance and a sculpted body that gives it a sporty look. The front of the car has a large grille that is flanked by sharp LED headlights. The hood of the car has a power dome that adds to its aggressive appearance. The side profile of the car is sleek and aerodynamic, with sharp lines that flow from front to back. The rear of the car has a sporty spoiler and quad exhaust tips that give it a powerful look.
My test vehicle came in the unavoidably noticeable Infrared. It's more of a deep and shiny red that really allows you to see the beautiful craftsmanship of the exterior. My test vehicle also had the optional but necessary 19 inch Matte Black BBS Forged Wheels.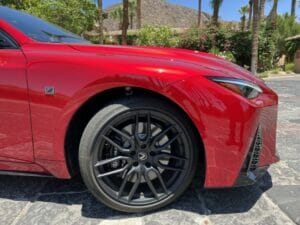 The interior of the 2023 Lexus IS 500 F Sport Performance is luxurious and comfortable. The seats are upholstered in high-quality leather and are designed to provide excellent support and comfort. The driver's seat is power-adjustable, and there is a memory function that allows you to save your preferred seating position. The dashboard is clean and modern, with a large infotainment screen that provides access to all of the car's features. There is also a premium Mark Levinson sound system with 17 speakers. The 10.3 Touch screen has plenty of tech built into it. My test vehicle had the Satin Chrome Interior Ornamentation which makes it look more sporty and ready for action. Lexus has built in so many features for driver customization. They do make it easy to set up the car for your personal preferences.
The 2023 Lexus IS 500 F Sport Performance is powered by a naturally aspirated 5.0-liter V8 engine that produces 472 horsepower and 395 lb-ft of torque. The engine is paired with an eight-speed automatic transmission that delivers smooth and responsive shifts. The car has rear-wheel drive, which provides excellent handling and traction. The IS 500 can go from 0 to 60 mph in just 4.5 seconds, making it one of the fastest cars in its class.
A naturally aspirated engine, also known as a normally aspirated engine, and abbreviated to N/A or NA, is an internal combustion engine in which air intake depends solely on atmospheric pressure and does not have forced induction through a turbocharger or a supercharger
Proponents of naturally aspirated engines would say the advantages are simplicity, lower cost  and more reliability with easier maintenance.
Lexus has always prioritized safety, and the 2023 IS 500 F Sport Performance is no exception. It comes equipped with a comprehensive suite of advanced safety technologies, including:
Lexus Safety System+: A package that includes Pre-Collision System with Pedestrian Detection, Lane Departure Alert with Steering Assist, Intelligent High Beams, and All-Speed Dynamic Radar Cruise Control.
Blind Spot Monitor with Rear Cross-Traffic Alert: Helps detect vehicles in your blind spots and warns you of approaching traffic when reversing.
Vehicle Stability Control (VSC): Enhances stability and helps prevent loss of traction during cornering.
Ten Airbags: Provides extensive protection for all occupants in the event of a collision.
Advanced Adaptive Cruise Control: Maintains a safe distance from the vehicle ahead, enhancing highway driving safety.
The 2023 Lexus IS 500 F Sport Performance has an EPA-estimated fuel economy of 17 mpg in the city and 25 mpg on the highway. While this may not be the most fuel-efficient car on the market, it's important to remember that the IS 500 is a performance car that prioritizes power over fuel economy. The MPG is good overall when you look at the power with the 5.0 liter V8 Engine. I definitely enjoyed the power and overall, I will have to say the car has a good balance of efficiency and power.
To further customize their driving experience, buyers can opt for several packages that add more features and technology to the 2023 IS 500 F Sport Performance. These packages may include upgraded wheels, a sunroof, enhanced driver assistance features, and various interior and exterior styling enhancements.
In conclusion, the 2023 Lexus IS 500 F Sport Performance stands as a remarkable testament to the pursuit of driving pleasure and automotive excellence. It combines performance, comfort, and advanced safety features into an exquisite package. If you seek a luxury sports sedan that pushes boundaries and embraces the joy of driving, the 2023 Lexus IS 500 F Sport Performance is a top consideration in the Luxury Sports Sedan Category.
The 2023 Lexus IS 500 F Sport Performance has a starting MSRP of $59,420. My test vehicle with options MSRP is $66,620
Get more info here and the official word on Lexus here:
https://www.lexus.com/models/IS500