The 2023 Mazda CX-50 Turbo Premium Plus is a new compact SUV that combines luxury, comfort, and performance. It is a viable option for those who want a stylish and practical vehicle that offers advanced features and a powerful engine. It offers a spacious and comfortable interior, good overall performance with all-wheel drive, making it a versatile SUV that can handle a wide range of driving conditions. The SUV's advanced safety features also make it a safe and reliable option for families. Additionally, the CX-50 Turbo Premium Plus offers a design that appeals to those who want a practical yet stylish vehicle.
Driver Experience:
This was one of the most best experiences I have had with the Mazda lineup. It is a comfortable car to drive and offers good, overall performance. This vehicle appeals to a wide range of people as it is versatile, has power but also good on gas, practical yet has a lot of features and capabilities. It is easy to steer around sharp turns and handles well. The safety features are good to enhance driver awareness but not overbearing. The Mazda CX-50 Turbo is a well rounded SUV and fun to drive.
Exterior:
The exterior of the 2023 Mazda CX-50 Turbo Premium Plus is sleek and modern, with a bold front grille and sharp LED headlights. The SUV has a sporty profile with sculpted lines and a roof spoiler that enhances its aerodynamics. The vehicle comes with 20-inch alloy wheels and is available in several colors, including Sonic Silver, Deep Crystal Blue, and Machine Gray.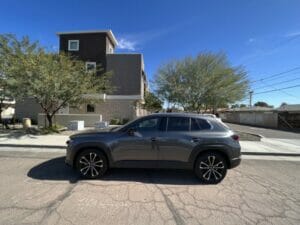 Interior:
The interior of the CX-50 Turbo Premium Plus is spacious and luxurious, with premium materials and advanced technology. The SUV seats up to five passengers and features leather-trimmed seats, a leather-wrapped steering wheel, and ambient lighting. The front seats are heated and ventilated, and the second row has a 40/20/40 split-folding design for added versatility. The vehicle comes with a 10.25-inch touchscreen display that includes the Mazda Connect infotainment system, which offers Apple CarPlay, Android Auto, and SiriusXM satellite radio. My test vehicle came with beautiful Terracotta Leather seats which gave CX-50 a more luxurious and sporty look. This is a comfortable vehicle with a lot of features for the money.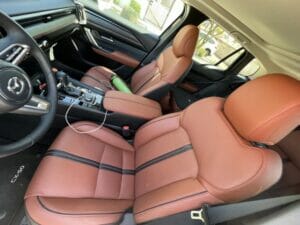 Engine:
The CX-50 Turbo Premium Plus is powered by a 2.5-liter turbocharged engine that produces 250 horsepower and 320 lb-ft of torque. The engine is mated to a six-speed automatic transmission that provides smooth and quick gear changes. The SUV comes with all-wheel drive, which enhances its handling and stability in all driving conditions. Towing capacity is 3,500 lbs.
Safety:
The CX-50 Turbo Premium Plus comes with advanced safety features, including a rearview camera, blind-spot monitoring, rear cross-traffic alert, and adaptive cruise control. It also features a lane departure warning system, automatic emergency braking, and a 360-degree camera system.
Overall, the CX-50 Turbo Premium Plus is an option worth considering for those who want a compact SUV that offers both style and substance. In my opinion, you get a lot of options and features for your money. It is comfortable to drive, has plenty of space and offers good performance.  You can get into a CX-50 starting at MSRP $27,550, The CX-50 Turbo Premium Plus MSRP starts at $42,300.
You can find out more here and all the official information on the link below
https://www.mazdausa.com/vehicles/cx-50